D-PLEX100 is PolyPid's lead product candidate from PLEX-doxycycline family, which is being developed to manage bone and soft tissue SSIs.
D-PLEX100 is a secured antibiotic drug reservoir that provides a safe and effective local anti-bacterial preventive measure as well as eradication at the needed tissues or organs by administration during surgical procedures. After surgery the reservoir constantly releases the entrapped antibiotic over several weeks. In doing so, the D-PLEX100 reservoir allows for prolonged infection prevention or treatment and also has the potential to eradicate resistant bacteria, which was classified by the US government as a serious global threat1.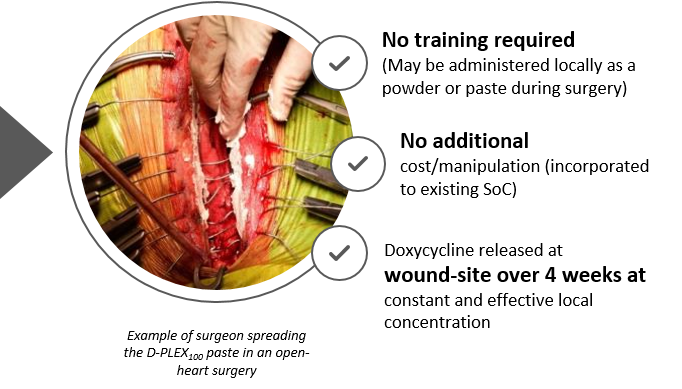 PolyPid recently announced the results of the primary efficacy endpoint from our fully-enrolled Phase 1b/2 clinical trial of D-PLEX100 in 81 patients in this indication, observed at the three month follow-up study period. During the three-month period after treatment, we observed no sternal wound infections in any of the 58 patients treated with D-PLEX100 and the standard of care. In contrast, we observed a 4.5% infection rate in the control group of patients who received the standard of care alone. According to recent literature, the expected infection rate for patients receiving the standard of care alone is 5% to 8%.
D-PLEX100 received QIDP designation from the FDA in February 2017 for the prevention of sternal infection after cardiac surgery. The QIDP program is designed to expedite the development of novel drugs against important pathogens.
PolyPid received FDA Clearance of Investigational New Drug Application (IND) to Commence Pivotal Phase 3 Clinical Trial of D-PLEX100 for the Prevention of Sternal Wound Infection Post-Cardiac Surgery. The study is a prospective, multinational, multicenter, randomized, single blind, study to assess the efficacy and safety of D-PLEX100 in prevention of post-cardiac surgery sternal infections. The clinical trial is expected to start in the first half of 2019.
PolyPid has been granted Fast Track Designation for D-PLEX100  lead pipeline product on for the prevention of post cardiac surgery infections. Fast Track designation reflects the recognition by the FDA that D-PLEX100   has the potential to address a large unmet medical need for a very serious condition. The FDA's Fast track process is designed to expedite the development and review of drugs to treat serious conditions and fill an unmet medical need. The benefits of a Fast Track designation include rolling submission of portions of the New Drug Application (NDA) for the drug candidate and eligibility for priority review of the NDA. Fast Track designation also enables PolyPid to have early and frequent communication with the FDA throughout the drug development and review process, often leading to faster drug approval and patient access.
On October 2018 PolyPid started enrollment in a Phase 2 clinical study evaluating D-PLEX100 for the prevention of post-abdominal surgery incisional site infections. The Phase 2 clinical trial is a prospective, multicenter, randomized, controlled, two arm single-blind study to assess safety and efficacy of D-PLEX100 administered concomitantly with the standard of care in the prevention of post-abdominal surgery incisional infection. The study is expected to be conducted in up to 300 patients undergoing elective colorectal surgery. Top-line results are anticipated in the second half of 2019.
D-PLEX100 is not yet approved for sale by regulatory agencies
(1) The White House: Executive Order — Combating Antibiotic-Resistant Bacteria, Sep 18, 2014
FORMULATION
D-PLEX100 formulation is well organized on a molecular level as a fine, sub-structure by self-assembly into PLEX™

Less than one daily dose for 30 days is sufficient  to achieve a significant therapeutic effect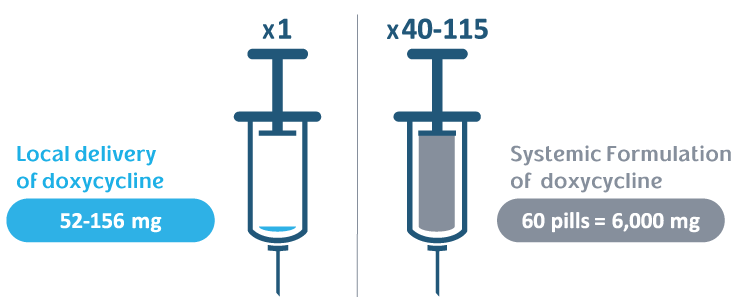 D-PLEX100 is designed to release a small antibiotic dose constantly for at least three to four weeks,
with the overall accumulated dose being equal to about 1% of a 30 day oral antibiotic regimen.
Preparation and use of D-PLEX100 product candidate in open heart surgery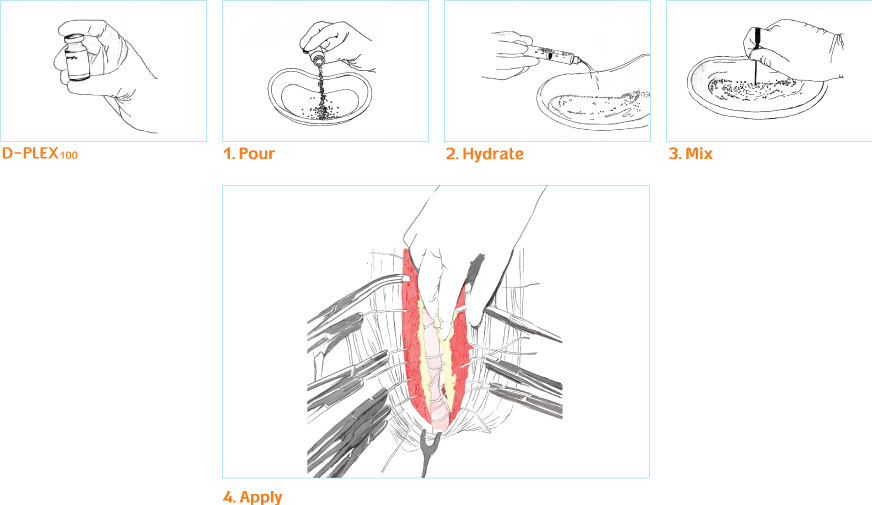 D-PLEX100 is to be used in conjunction with standard of care in open heart surgeries.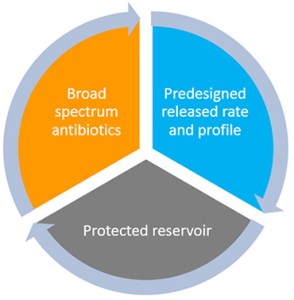 D-PLEX100 ADVANTAGES
By combining doxycycline with our proprietary PLEX technology, D-PLEX100 has the potential to overcome the limitations of other available treatments and deliver significant advantages in the management of SSIs, including:
 Localized delivery of an antibiotic at therapeutically effective concentrations for up to four weeks;
Applicability to a wide range of bacteria in a variety of settings;
Activity against MRSA and community-associated MRSA strains;
Increased penetration and access to the infection site;
Reduced risk of overall toxicity and adverse side effects due to minimization of systemic exposure and significant decrease of total drug volume delivered;
Fully biodegradable; no need to remove the product after the drug reservoir is depleted;
Simplicity of administration during surgery; and
Reduction of patient compliance concerns.
SURGICAL SITE INFECTIONS (SSI)
While advances have been made in infection control practices, including improved operating room ventilation, sterilization methods, barriers, surgical technique, and availability of antimicrobial prophylaxis, SSIs remain a substantial cause of morbidity, prolonged hospitalization, and death. SSI are the second most common hospital acquired infections in United States and the European Union and occur in approximately 2% to 5% of patients undergoing inpatient surgery worldwide1.  SSIs might result in1,2:
Increased length of post operative hospital stay by 7-10 days
Directly attributable costs of SSIs range from $11,000 to $26,000 per infection.
In more complex infections involving a prosthetic joint or antimicrobial-resistant organism, the cost per case can exceed $90,000. 
Two - 11 times increased risk of death compared to infection free patients 
$10 billion of incremental hospital costs per year in US and ~7 billion per year in European union. 
Current systemic antibacterial solutions are not sufficiently effective due to low target penetration. The insufficient penetration is either temporary due to surgery related trauma to the tissue, or constant due to the nature of the target area.
(1) Anderson, D.J. et al, Strategies to Prevent Surgical Site Infections in Acute Care Hospitals: 2014 Update, Infect Control Hosp Epidemiol 2014;35(6):605-627
(2) Kirkland KB, et al. Clin Infect Dis. 2003.